Who we are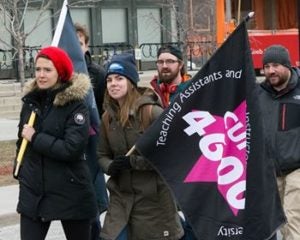 Local 4600 of the Canadian Union of Public Employees (CUPE 4600), represents all Teaching Assistants, internally-funded Research Assistants, and Contract Instructors at Carleton University. It is the largest union on campus, with nearly 3000 members. If you are a CUPE 4600 member and are looking for assistance, please contact us at info@cupe4600.ca. CUPE 4600 members are organized into two distinct units.
Unit 1 includes Teaching Assistants and Internally-Funded Research Assistants
, while
Unit 2 includes all Contract Instructors
. Both units have distinct Collective Agreements, which are bargained at the same time, by two separate bargaining teams.
Annual General Meeting 2023 Our Annual General Meeting will take place on April 26th, at 6pm. The AGM is when we elect our new executive board and executive council.  All members in good standing will be able to vote for their new executives, and are welcome to run for board and council positions. A separate
Read More »
Ratification process for the tentative agreement Both Units of CUPE 4600 will have a chance to ask questions about the tentative agreements at two upcoming info sessions. The electronic ratification votes will begin for each unit once the info sessions are started. The Unit 2 session is scheduled for Thursday, April 20th, 7pm. The Unit 1 session
Read More »
The elected bargaining teams of both units have reached a tentative deal with the University after seven months of bargaining. A ratification vote will take place for both units by April 30th.  More information about these tentative deals and the ratification vote coming soon.
Read More »