Who we are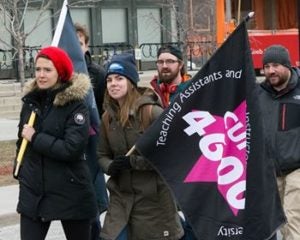 Local 4600 of the Canadian Union of Public Employees (CUPE 4600), represents all Teaching Assistants, internally-funded Research Assistants, and Contract Instructors at Carleton University. It is the largest union on campus, with nearly 3000 members. If you are a CUPE 4600 member and are looking for assistance, please contact us at info@cupe4600.ca. CUPE 4600 members are organized into two distinct units.
Unit 1 includes Teaching Assistants and Internally-Funded Research Assistants
, while
Unit 2 includes all Contract Instructors
. Both units have distinct Collective Agreements, which are bargained at the same time, by two separate bargaining teams.
Help us get a fair deal! Strike deadline: Monday, March 27th
Are you a parent, student, or member of the Carleton community?  Send a message to Carleton administration telling them to offer a fair deal to CUPE 4600 members.
CUPE 4600 is currently in bargaining
CUPE 4600 is currently engaged in bargaining with Carleton University. The Collective Agreements representing Contract Instructors, Teaching Assistants, and Research Assistants expired at the end of the summer, and we are negotiating a new agreement for members. Our strike deadline is Monday, March 27th.
Check out our bargaining page for updates about the current bargaining round. 
The strike deadline for both units is coming up soon (Monday, March 27th, 2023). In order to ensure everyone is signed up for strike pay and picketing shifts, we would encourage you to sign up for both now, so that no one is left scrambling at the strike deadline. Here is our FAQ about strike pay, and how it works. There are
Read More »
Votes have been counted, then re-counted, and then counted again. Both Units of CUPE 4600 have given strong strike mandates to their bargaining teams. Unit 1 (Teaching Assistants and Research Assistants) have voted 93% in favour of giving their bargaining team a strike mandate. Unit 2 (Contract Instructors) have voted 95% in favour of giving their bargaining
Read More »
Below are some resources that we have made available for download. Please feel free to print and distribute these, hang them up in your office, or share them with your coworkers. New resources will continue to be added here as they become available. The bargaining process, and glossary of terms CUPE 4600 newsletter  (First issue)
Read More »